Featured Images
This theme uses featured images as the header image for posts. Images should be at least 900px wide for the best appearance. Any larger image will be cropped and/or resized by WordPress when uploaded. Smaller images will not be scaled up.
Customize your site
Aventurine enables you to edit the background and header of your site using the Customizer. This can be found at Appearance → Customize.
Background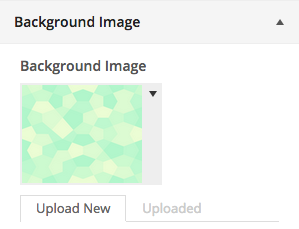 Under "Background Image", you can upload a custom background image. We recommend a repeating pattern, like these from subtlepatterns.com. You can read more about the other background options available here.
This setting is also available in the WordPress dashboard under Appearance → Background.
Colors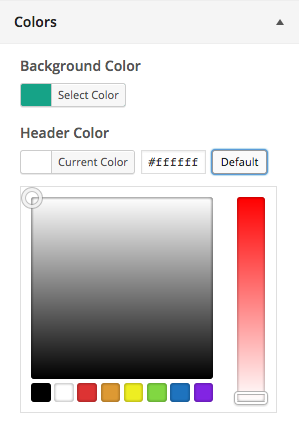 If you change your background color, or upload an image, we recommend you change your header color to match. You can do this by clicking into the "Colors" section. Drag the color selection (the circle) to change the color, or manually enter a hex color code. The preview of your site will update, so you can see how your colors look together. This will not be live until you click "Save & Publish".
Accessibility
While this theme does its best to support keyboard and screen reader accessibility best practices, it's still up to you as a site owner and editor to make sure your content is accessible. Check out the WebAIM website for more information about accessibility- a good starting place is the Introduction to Web Accessibility.
Please note that by default, Aventurine's color palette does not pass AA color contrast requirements.